FOR THOSE WHO ARE OUR STHERB FAMILIES THROUGH OUT THE WORLD.
We have both products from Pueraria Mirifica for women and Butea Superba for men and other Thai herbs. Our herbal extracts and powder are premium grade so that you can rely on the effectiveness and safety of our finished products which is the best quality for both your body care and spa treatment.
Our products range and be divided into 4 series:
Stherb Beauty Breast Series– for natural breast beautification.
Stherb Beauty Facial Series – for the perfect facial care.
3. Stherb Men Series – for natural male active care.
4. Stherb Beauty Body Series – for slimming and anti-cellulite.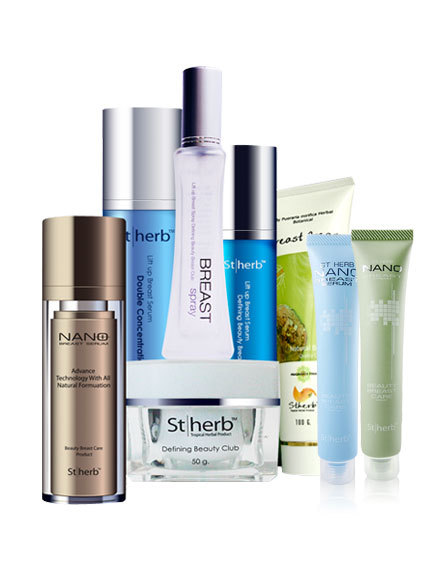 One of Stherb's main efficacy is Pueraria Mirifica, this herb is used to make all of our women's products, therefore, to differentiate us from other pueraria mirifica suppliers, we requested a test from CTFA on our quality of pueraria mirifica. It was approved and our company becomes and still remains as the only pueraria mirifica supplier approved. This ensures the efficiency of our products which are made by the highest quality pueraria mirifica found in the world.Our Breast Series contained Nano Plus Breast Serum, Breast Serum, Breast Spray, Breast Mask, Breast Cream which are for external use and Pueraria Mirifica Capsules (or Breast Capsules) is for female dietary supplement or alternative hormone replacement therapy.
---
WHOLESALE
FOR THOSE WHO ARE OUR STHERB FAMILIES THROUGH OUT THE WORLD.
This is type of product purchase system that we have made to encounter our partners that are interested in making sales through on-line or off-line by using our web-site template as a business tool.
Advantages:
Given a very cheap price to purchase the products.
Don't have to buy in large quantities as the import price.
Not be given time limitations on purchasing the next order.
Be getting assistance or guidance on new info of our products.
Fast profits within few sales.
Should be able to keep stock of the products in hand.
Above are the advantages you'll get when you choose 'wholesale price' of product purchase system by doing this will gain profit in very short period of time because your web site will be holding the retail price of the products based on our www.stherb.com's product price lists. So, you are actually earning the profits by the cheap 'wholesale price' that you have bought and selling them in much higher price.
Disadvantages:
Have to take the responsibility of shipment and the import tax.
Must be able to support your governments FDA regulations.
Holds the responsibility in keeping the stock and its expense.
Since you still have to import the products, you'll be taking the responsibility of tax, shipping expenses, stock, and FDA regulations of your country.
For inquiry, please contact cs@stherb.com